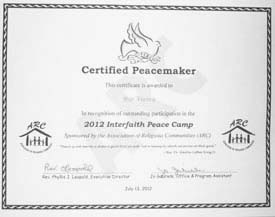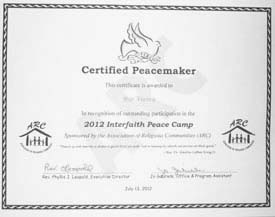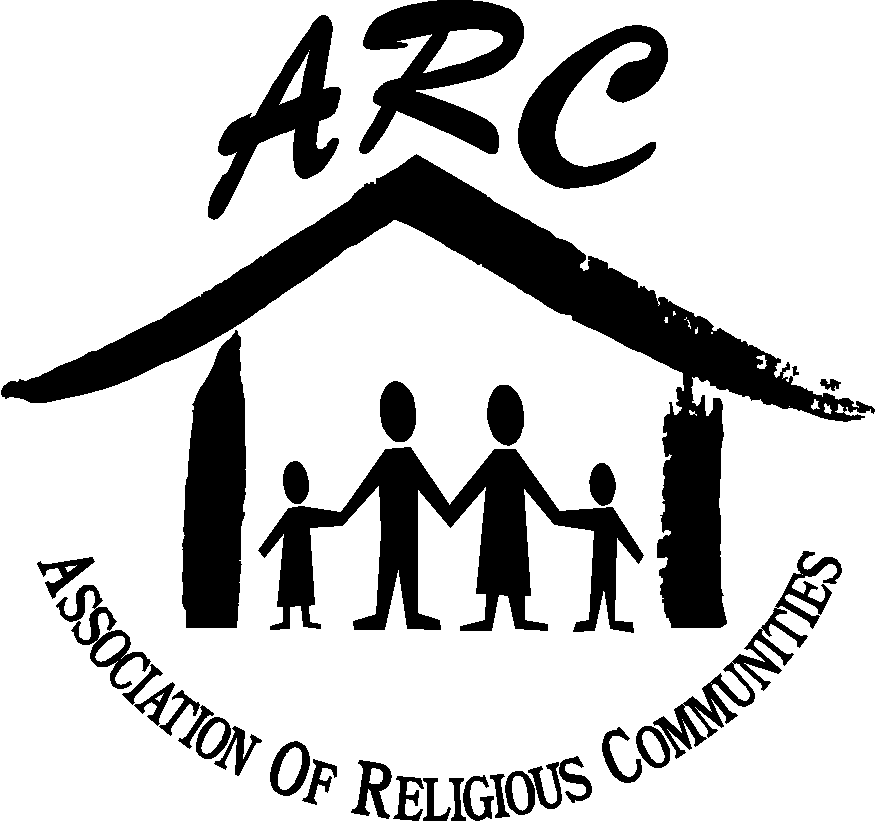 ARC Peace Camp 2013 pictures.
Monday: Unitarian Universalist Congregational Hall, Danbury.

A Day of Buddhism - The Venerable Ocean of Wisdom Sakya.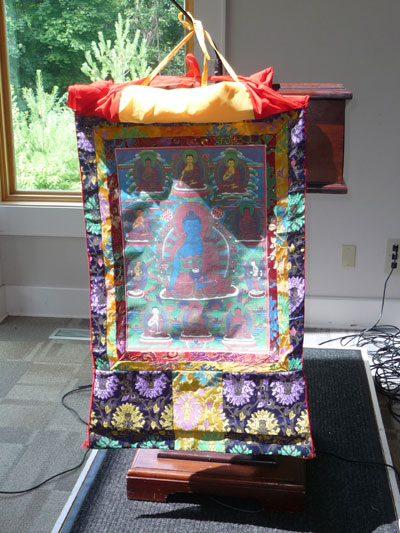 Venerable Wisdom Sakya speaks to the children on understanding peace.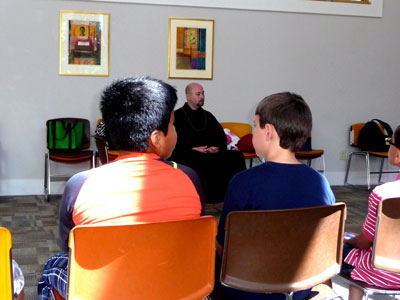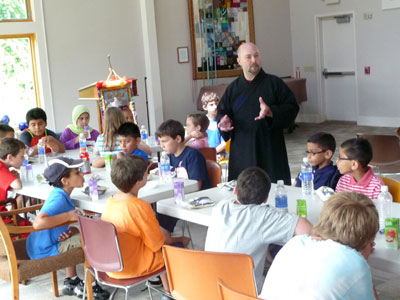 Peace Camp Group Picture, Venerable Wisdom Sakya and Director Suzanne Perry.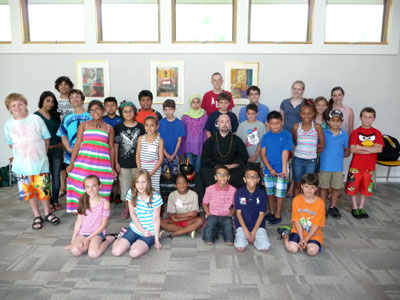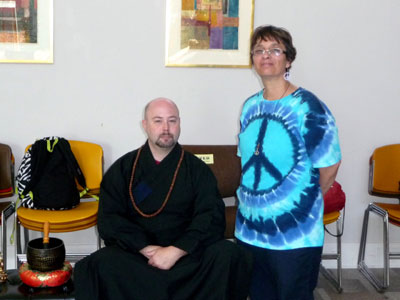 Children showing their handy work - bracelets with their name
and setting up for tie-dye.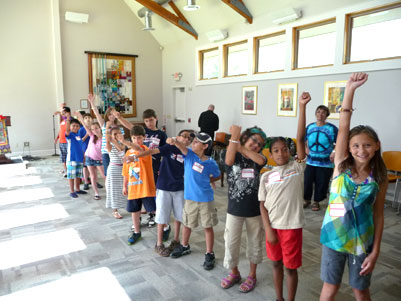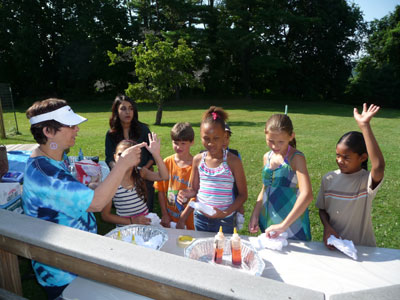 Outdoor activities.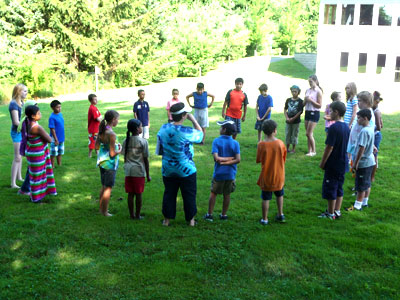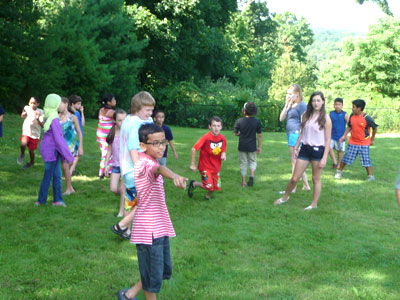 Having fun with water on a hot day.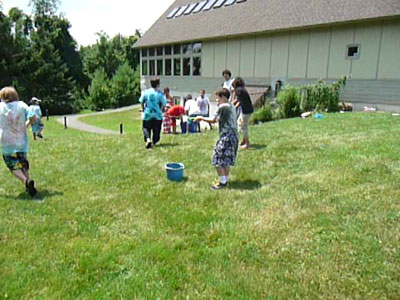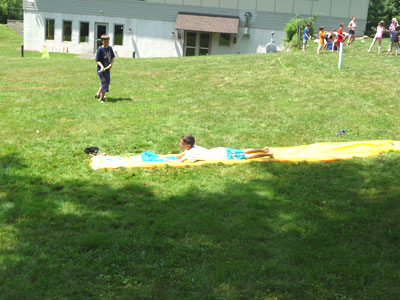 Tuesday: Tarrywile Mansion, Danbury.

Native American Day - Suzanne Perry.
Peace Camp Director Suzanne Perry explaining the Arts and Crafts project.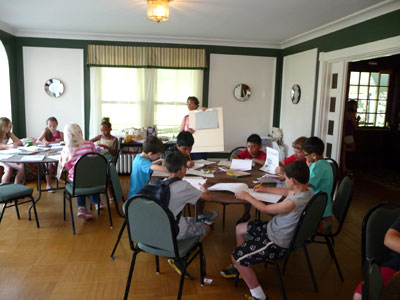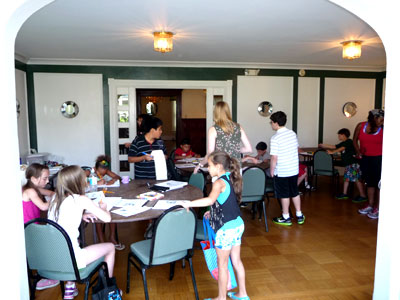 Children taking a snack break.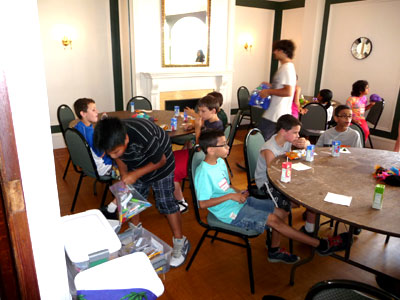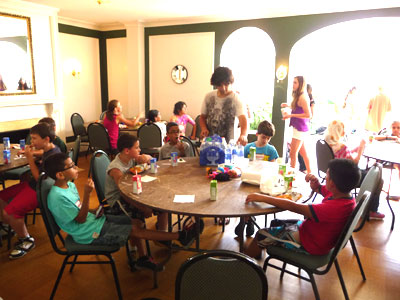 Signing the Peace Pole.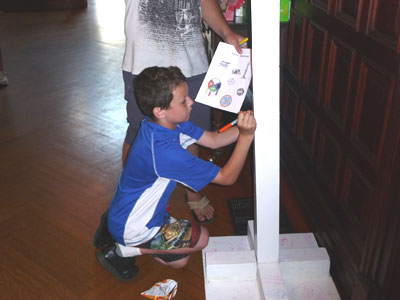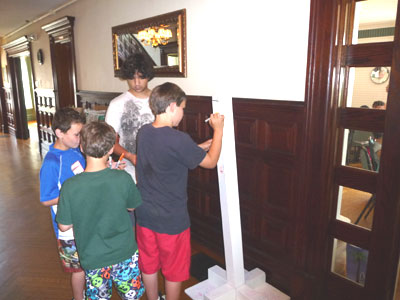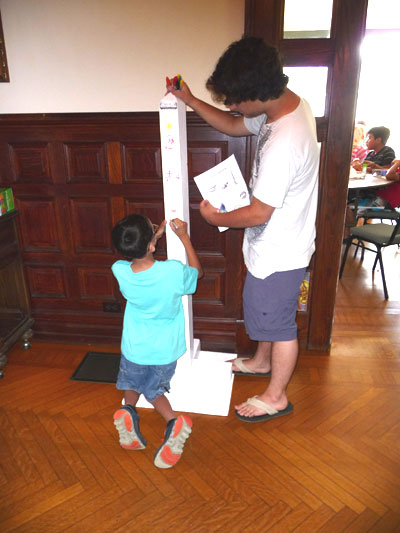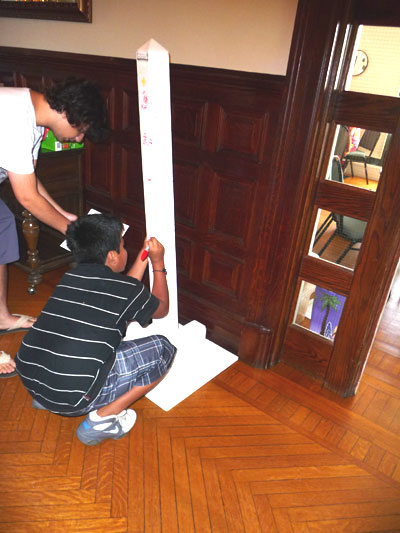 Outside Activities.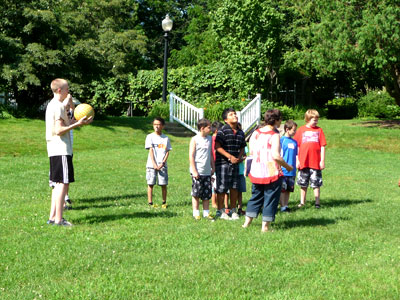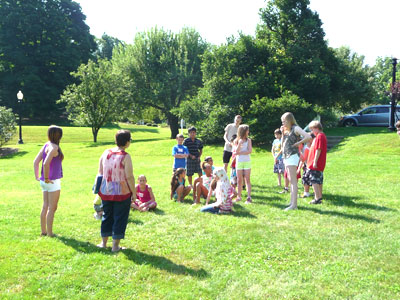 Peace Camp Group Picture, with peace-camp peers leaders and director.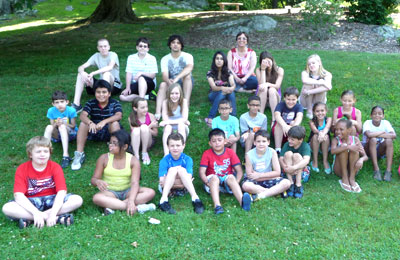 Wednesday: Baitul Mukarram Masjid, Danbury.

Muslim Day - Shazeeda Kahn.
Shazeeda talks to the children about Islam and its sacred shrines.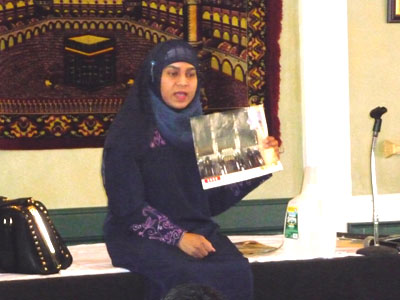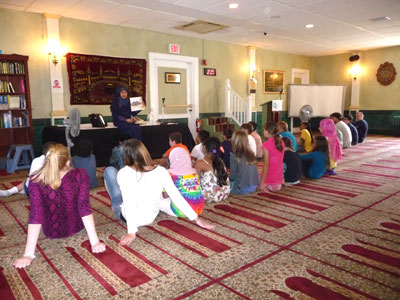 The children learn how Muslim's pray.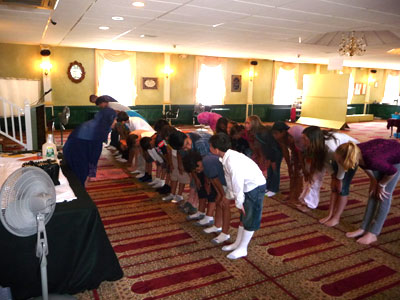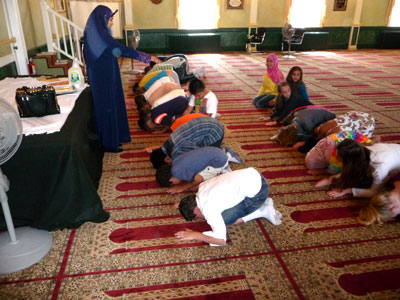 The children learn how to write their names in Arabic and learn a craft.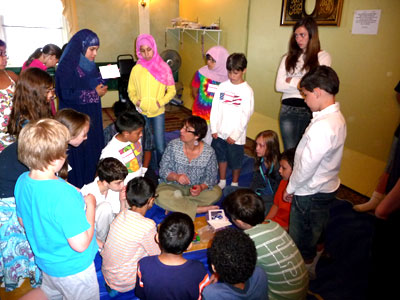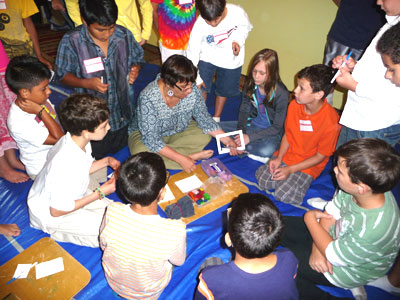 Shazeeda explains that the Arabic language is written from left to right.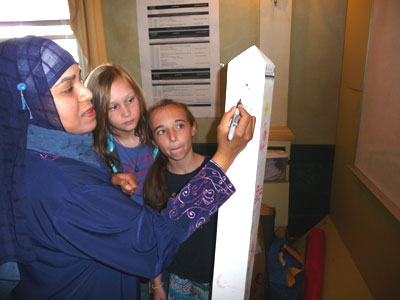 Group picture at Baitul Mukarram Masjid.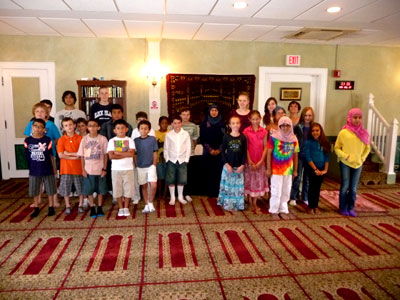 Thursday: Unitarian Universalist Congregation Hall, Danbury.

Judaism - Shari Lynn Kochman and Henry Tritter.
The children gather around the Toran Scroll
to learn about its importance to Judaism.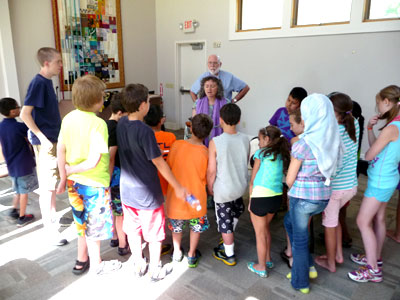 The parts of the Toran Scroll are described to the children
and they learn that it is quite heavy.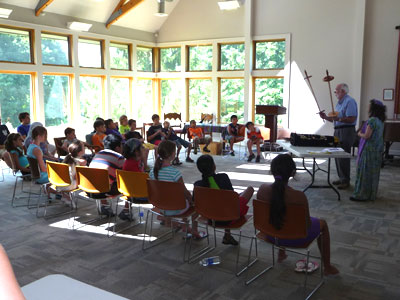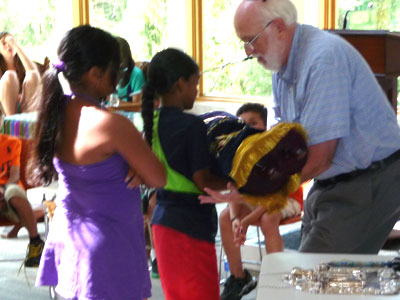 The method of hand writing a Sefer Torah is explained and
it is demonstrated how it is never touched with the hand.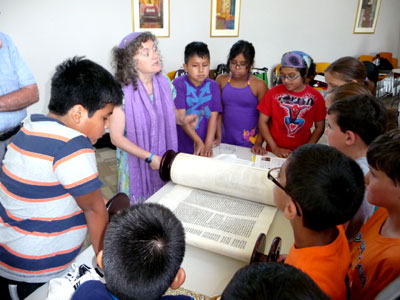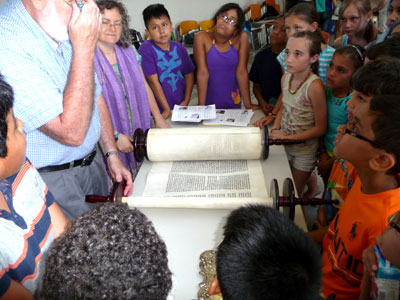 The blowing of the Ram's Horn (a shofar) was demonstrated - it was so loud that it
startled everyone. All had fun learning how to accomplish the blowing.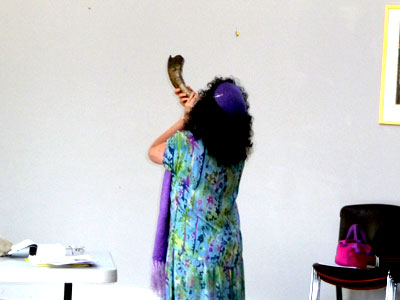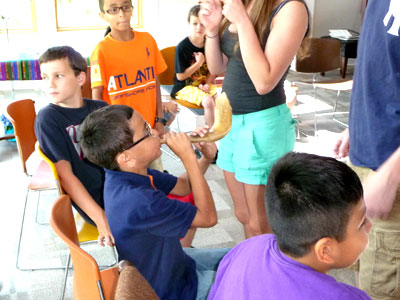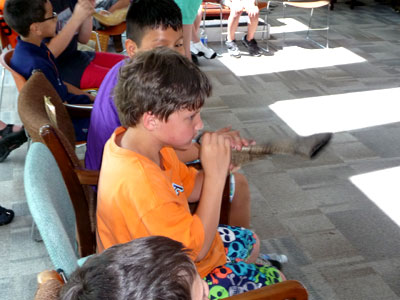 Everyone enjoyed creating and learning new crafts.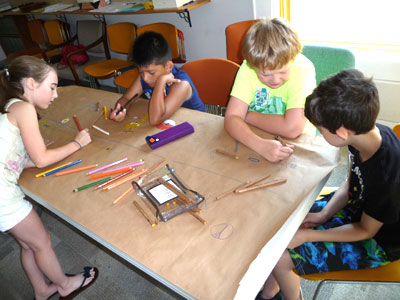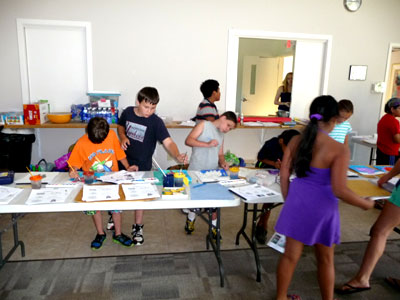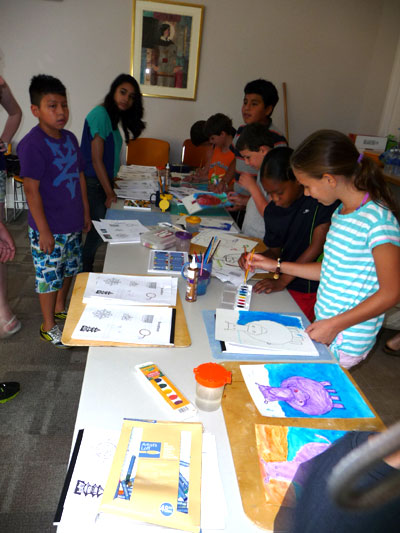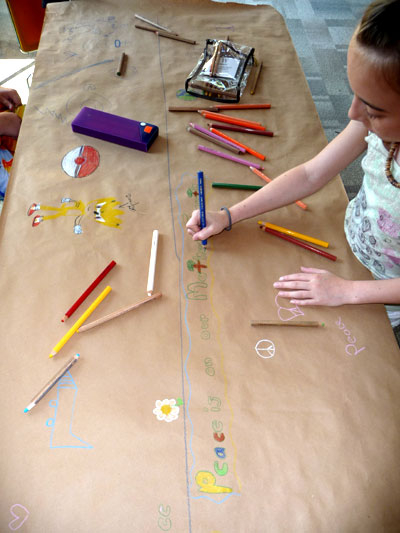 Everyone wanted to proudly display their hand crafts.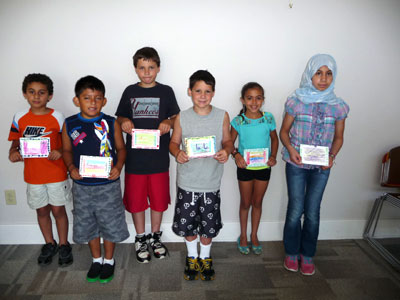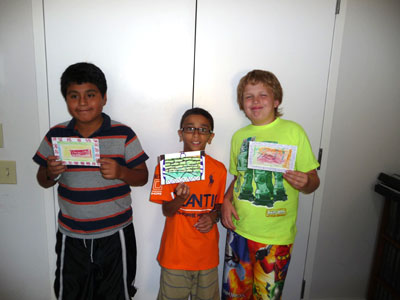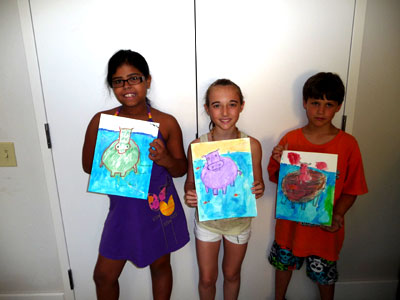 Having fun with a camp peer leader.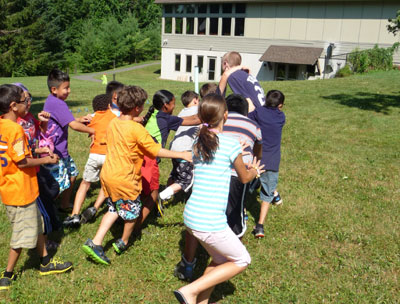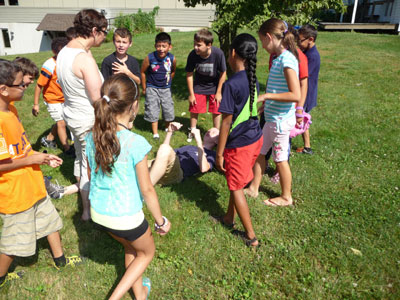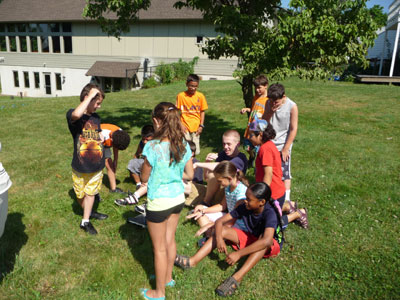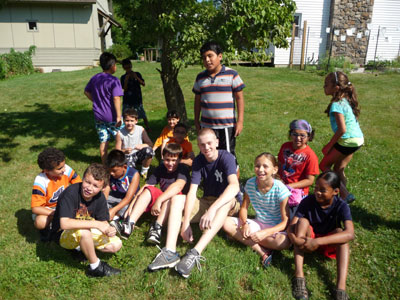 Friday: Unitarian Universalist Congregation Hall, Danbury.

Unitarian Universalist Congregation - Darlene Anderson-Alexander
Peace, acceptance and inclusiveness was the theme of the lesson.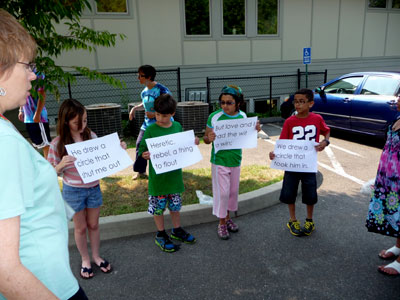 The circle grows from including the few, expanding to make the world anew.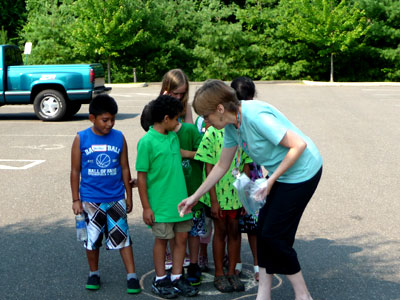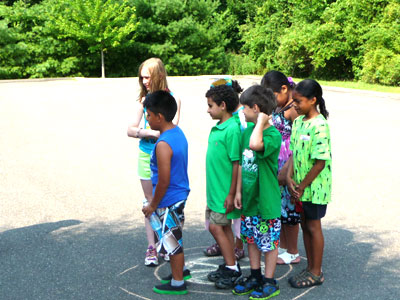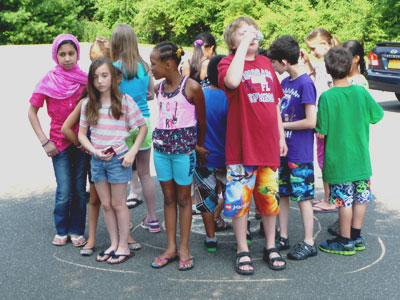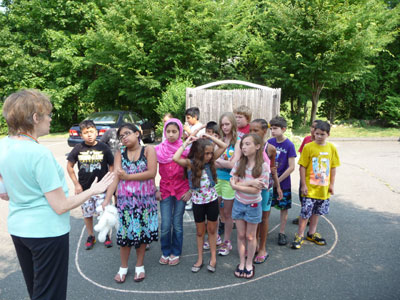 The children make sandwiches for the Dorothy Day Hospitality
House - a soup kitchen in Danbury.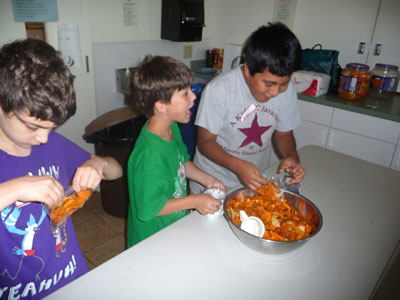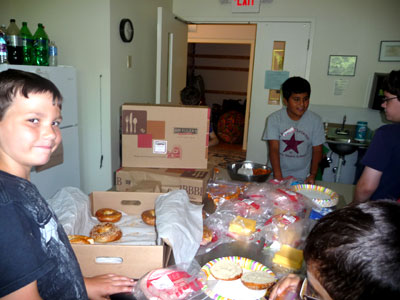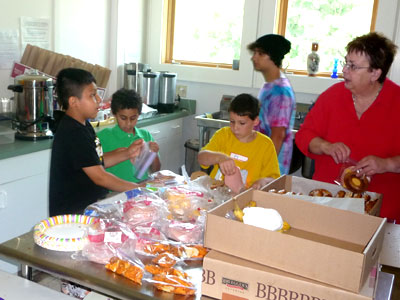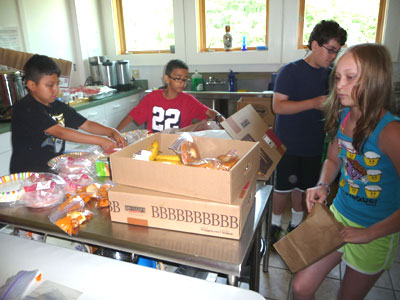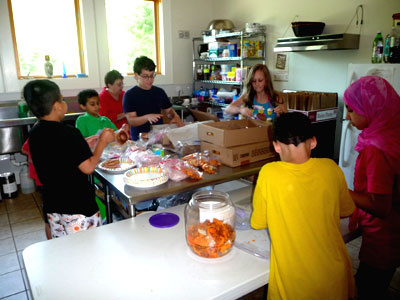 Displaying their hand crafts.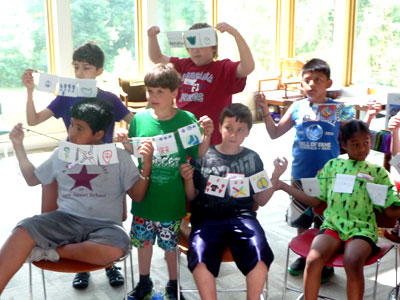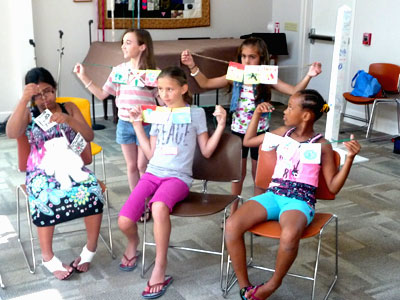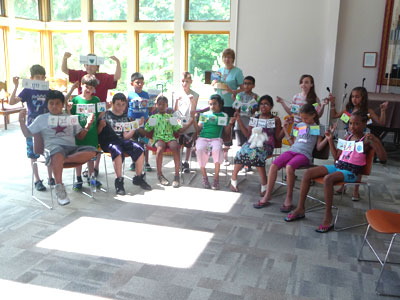 Creating personalized tributes to Rev. P.J. Leopold.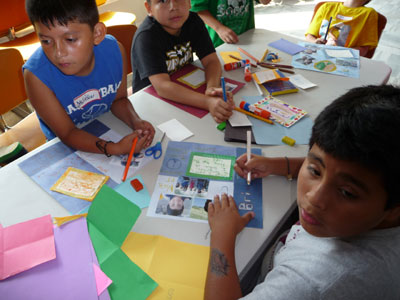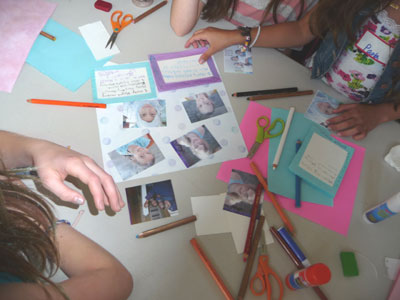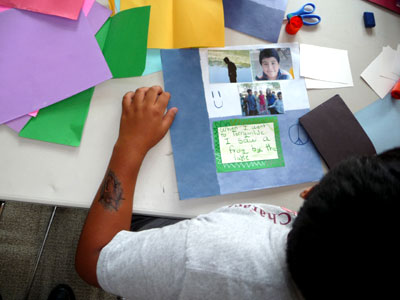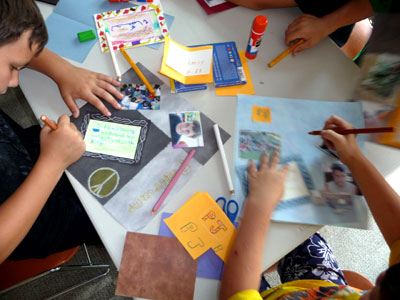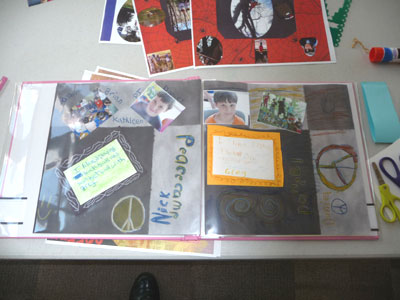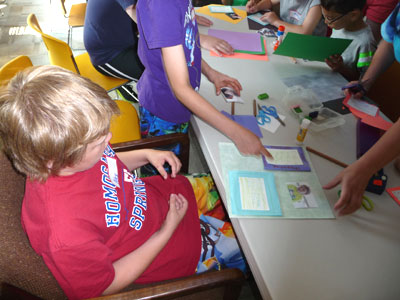 The Rev. P.J. Leopold distibutes Peace Camp Certificates.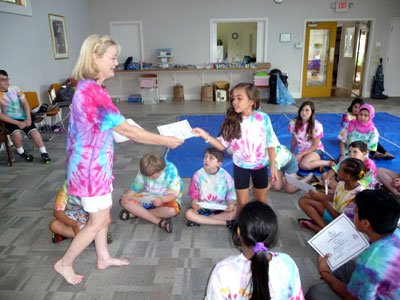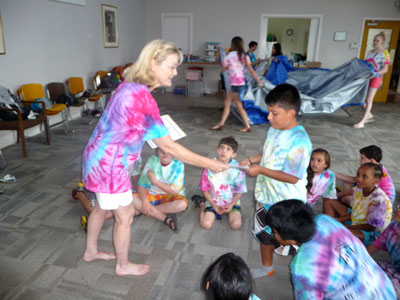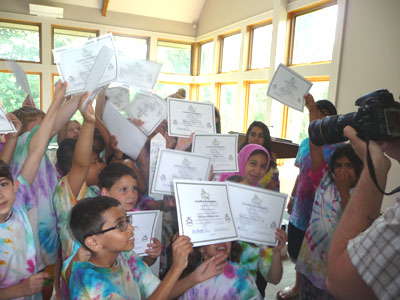 The Rev. P.J. Leopold speaks with the children and the peer leaders.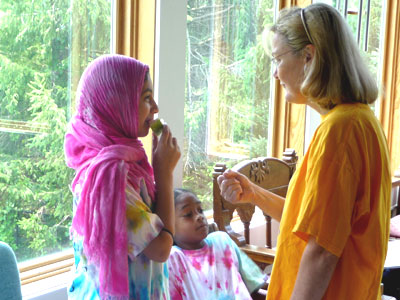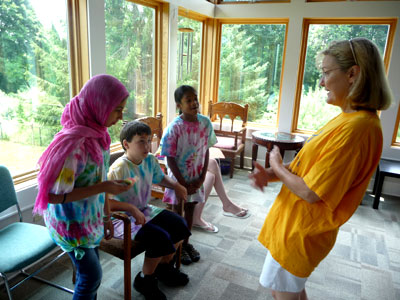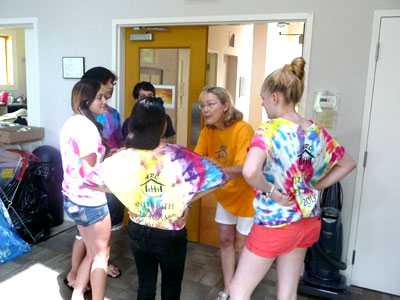 Personalizing others' Peace Camp T-shirts.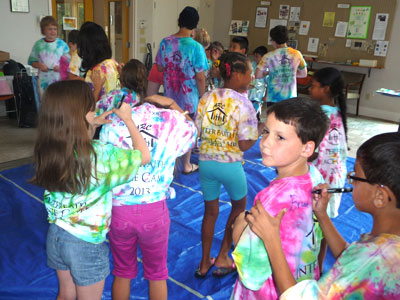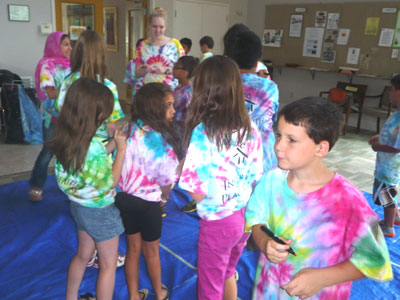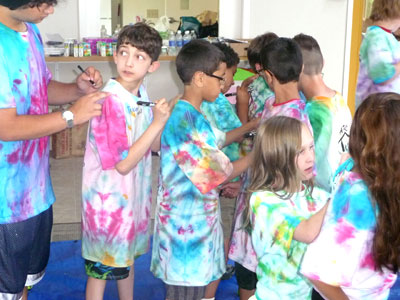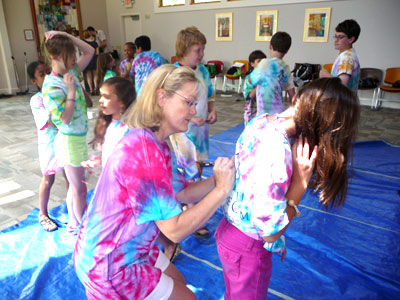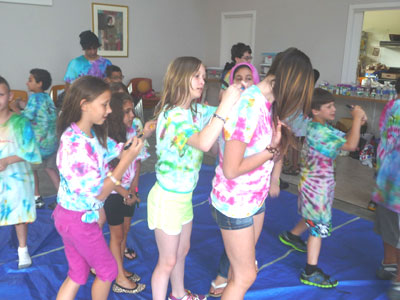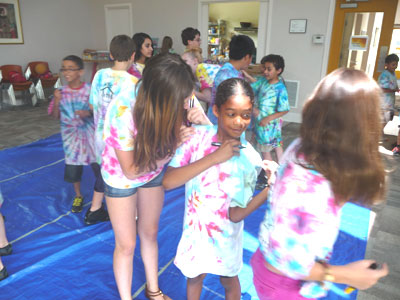 Rev. P. J. Leopold observes the tribute to her from the children.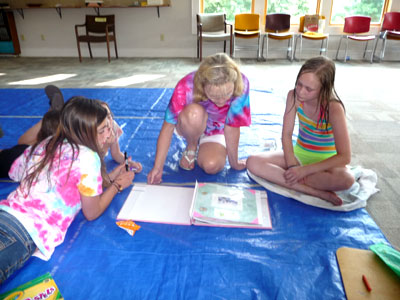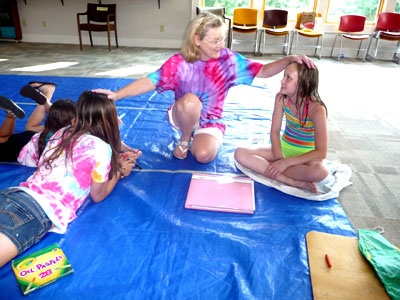 Friday's group picture.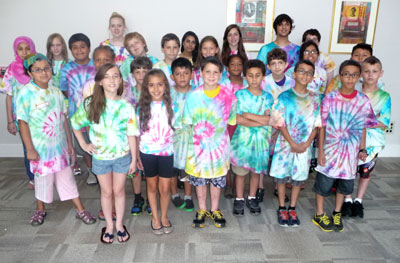 Poem in the picture to the left:
He drew a circle that shut me out,
Heretic, rebel, a thing to flout,
But love and I had the wit to win,
We drew a circle that took him in.